Global Metaverse and Web 3.0 experts gathered in Dubai for the second edition of MetaWeek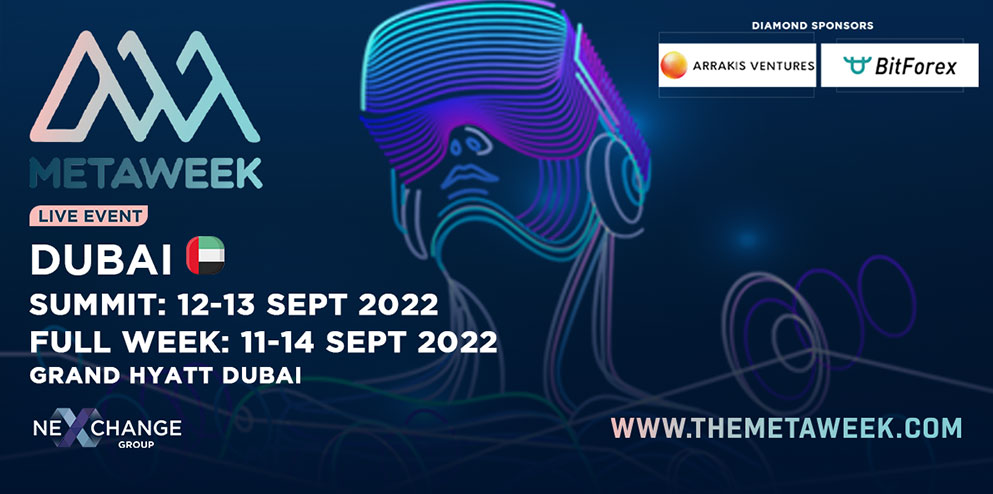 The MetaWeek Summit took place on September 12-13, 2022 at the Grand Hyatt Dubai. Insightful on-stage sessions brought together the brightest minds in the Metaverse industry and the Dubai community.
Digitizing the spiritual life of communities and even the religious life of people was discussed in a fireside chat with Juwan Lee, Founder and Chairman of the NexChange Group, and Dr. Elie Abadie, Senior Rabbi, Jewish Council of the Emirates, Rabbi, Association of Gulf Jewish Communities. Frank Fitzgerald, Founder of Pax.world and Jason Luo, CEO of BitForex, shared their visions on how Metaverse will nurture the business environment and the blockchain and digital asset industry. One of the most anticipated sessions of the day, Sustainability Goals and Global Social Impact, impressed the audience with a number of use cases and projects advancing this field and changing people's lives for good.
Juwan Lee, Founder, Chairman, NexChange Group: "We are very excited that the MetaWeek Summit brings together so many great people from the tech, business, art and investment communities. We are creating new connections in the world of digital innovation, highlighting Dubai as a forerunner in the development of the digital economy and the importance of the ecosystem".
The NFT session was a real success on both stages of the summit: the usefulness of NFTs, marketing and insights from the speakers defined the hottest trends in the market, while investors and venture capitalists from all over the world flooded the stages to share their unique insights into how capital will flow into the Web 3.0 space. Sustainability experts provided unique insights into how Web 3.0 helps address the challenges of climate change and carbon credits. One of the main topics of the day was government regulation and policy towards Web 3.0 and blockchain initiatives, with experts representing the MENA region, Africa, Barbados, the United States and the United States. global regulatory perspective. The Digital Assets Market Trends Panel gathered a full room, with stablecoin and digital asset proponents defining current and future market directions and the global mass adoption of digital currencies. The All Star panel session on Metaverse Architecture covered a number of topics such as improving user experience, security and accessibility, interoperability of different worms, and technology infrastructure.
NexChange Group is a business builder and media platform specializing in Blockchain, FinTech, HealthTech, AI and Smart Cities.
For more information on registration, speakers, agenda and partnerships, please visit https://www.themetaweek.com or contact: info@nexchange.com