'Livid' woman on online website listing 'cow' as clothing size – NBC 6 South Florida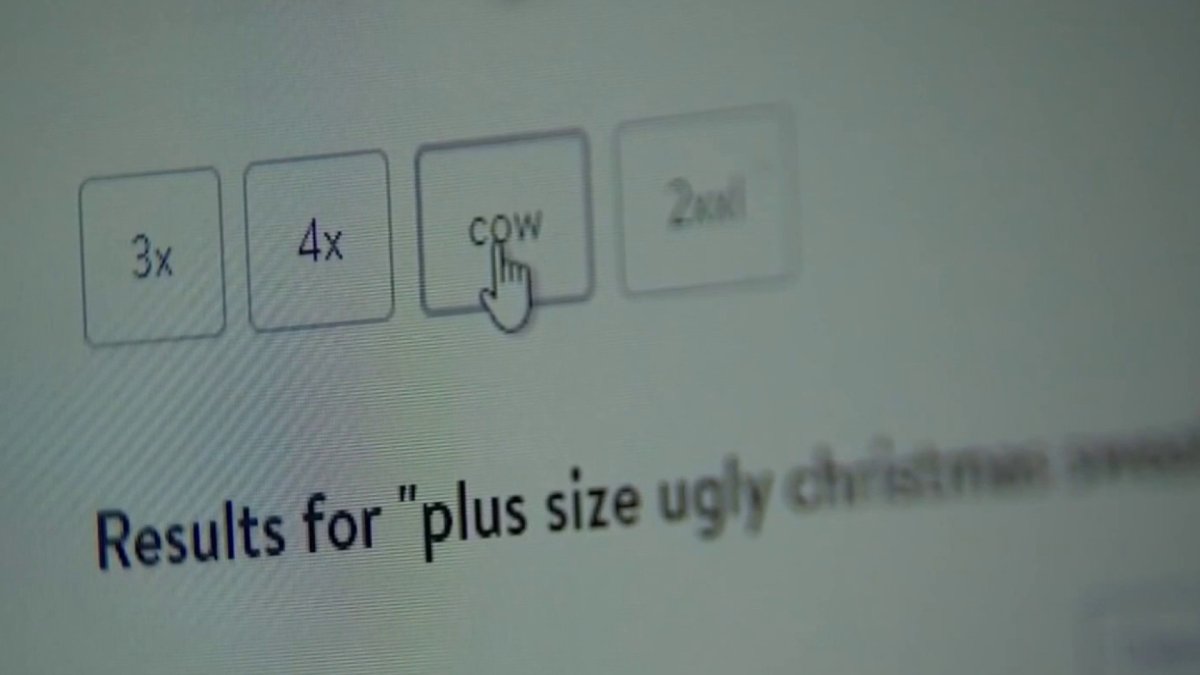 For G'Nadine Grant, dressing up for Christmas is a tradition she takes seriously.
Her closet is full of festivities, from ugly sweaters to Santa stockings to elf shoes.
"Christmas hats, Christmas dresses, everything, the whole shebang," she said.
But this year, her holiday cheer is mixed with shock.
Grant went to Walmart's website looking for ugly Christmas sweaters and said she couldn't believe what we saw when she typed "plus size ugly Christmas sweaters for women" into the search bar.
"I'm livid. I'm very angry," she said.
The website lists sizes as 3x, 4x, 2xxl – and "cow".
"Obviously these are for taller people, and you refer to taller people as 'cows', really?" said Grant. "It shouldn't be on your website. I don't think it's a prank because if it was a prank that's definitely not funny."
Grant tried to call the company's headquarters, but got a dead end.
"It's not really a customer service issue. It's a head office issue that Walmart would allow something like this on their website. So nothing really happened," she said.
NBC 6 reached out to Walmart on Tuesday night for a statement, and a spokesperson replied, "It's definitely not correct and we're working to determine what's happening now."
"In this case, the shopper had been looking for a plus size ugly Christmas sweater. And that's how that word came up there," Carrie McKnight of Walmart's eCommerce department said Thursday. "This is by no means a description of a size. It's just a sweater. A cowhide sweater that someone had been looking for before."
Grant says she feels the label could lead to body shaming.
"I'm angry for new moms who just had babies and maybe you're a little anxious because they've added a few pounds or whatever," she said.
McKnight said she understood how confusing the issue was.
"It's not representative of who we are as a company," she said.